At the Innovation Learning Network (ILN) Spring Meeting in Chicago, I led a session on 'Innovation as Radical Common Sense: The Story of PatientWisdom'. The ILN meeting was hosted by Northwestern Medicine and Salesforce, the theme was Storytelling 2.0, and the ILN members I met were – to a person – smart, curious, engaging, and very committed to innovation with practical value.
Having stayed several miles north of the city the night before, I took a car service down to the meeting. In the course of chatting along the ride, I told the driver that I'd be talking to a group of healthcare leaders about what patients want from their doctors and care teams. And I asked for her perspective. Here's what she said:
I want them to care about what's going on with me. To listen.
Find out a little about me, know who I am, and focus on me.
On the spot, she perfectly articulated the theme that has emerged in my 30 years of work in the field of communication in healthcare: Patients want to be seen as people. This is the key to turning health transactions into healing relationships for both patients and clinicians.
I started PatientWisdom to improve health and care by listening to patients. A digital health platform that focuses on what matters to patients as people – that's innovation. It's also what I call Radical Common Sense. Common Sense because, when we take time to step back and identify the real problem to be solved, viable solutions become more apparent. Radical because, while the approach is simple, the effect can be truly transformational. Here's the Radical Common Sense of PatientWisdom:
Problem. Patients deal with health every day. Their experience is valuable, but mostly unheard. Many clinicians and health organizations aren't connecting with patients in a meaningful way because they don't know what is meaningful to patients, families, and caregivers. Time is certainly a factor. So is what Michael Millenson recently termed the challenge of collaborative health. This tweet, sent during the 2016 Stanford Medicine X Conference, says it all: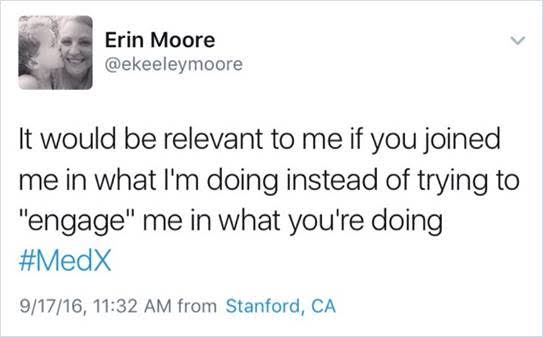 Solution. PatientWisdom is a safe digital platform that makes it easy for patients, families, and caregivers to share stories about themselves, their health and their care, and summarizes that information into actionable insights to help care teams and health organizations do a better job without taking more time. It is integrated with patient and clinician workflows as well as the electronic health record. A patient at Froedtert & The Medical College of Wisconsin captured the power of this approach:
By using PatientWisdom, I'm giving a gift to my doctor. And to myself.
My doctor has an easy way to learn what's important to me, so I get better care.
Listening to what matters to patients as people – goals, barriers, perspectives – facilitates communication, connection, and collaborative health. And at the organizational level, reviewing the themes that emerge across groups of patients provides the kind of "outside-in" perspective that is often talked about but rarely realized. This is actionable information that drives learning and improvement, real engagement, and meaningful value. For a deeper view, here's a video we recently finished in partnership with Yale New Haven Health.
Radical Common Sense is the spirit of PatientWisdom. We are entirely focused on real-life challenges faced by patients, families, caregivers, care teams, and health organization leaders. So we listen. And we work with all of these groups to develop powerful solutions that turn health transactions into healing relationships.
Gregory Makoul has given several presentations on Innovation as Radical Common Sense over the past decade or so, including: Association of American Medical Colleges (2014), Brown University Alpert Medical School (2012), Diabetes Hands Foundation (2017), Hospital of Central Connecticut (2013), Joint Commission Resources/Robert Wood Johnson Foundation (2008), Merck Innovation Conference (2007), Saint Francis Hospital and Medical Center (2009), University of Connecticut Health Center (2008), University of Pittsburgh School of Medicine (2007). An earlier post on this topic can be found at https://www.cipci.org/innovation-as-radical-common-sense.