For organizations committed to improving the health of the communities they serve
We have created a new CommunityWisdom survey to help organizations get a more systematic sense of how people are coping with COVID-19 challenges. It's completely digital, so there's no need to have people out in the field, and we produce a summary as well as share the raw data. The goal is to facilitate the most appropriate support, part of which entails conveying a clear 'we hear you' and pointing to relevant resources.
***
Amplify real-world perspectives to develop successful community programs and partnerships
Health organizations can more effectively address community health if they more deeply understand what matters to community members — whether or not they are active patients. Traditional community needs assessments lack qualitative insights needed to guide smart, strategic investment decisions.
CommunityWisdom captures real-world perspectives about health issues, needs, and resources at both the individual and community level. It combines an open-ended, qualitative approach with highly reliable content analysis to capture and report meaningful insights. We work closely with health organizations and community agencies to deploy CommunityWisdom most effectively in the communities they serve.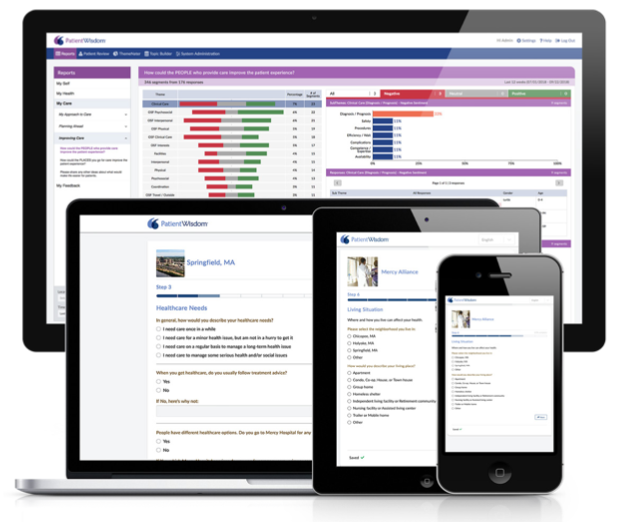 Create engagement
Gain a more complete assessment of community needs

Prioritize learning
Increase confidence in strategic decisions and investments

Improve health
Drive meaningful change in both social and personal determinants
"Our partnership with CommunityWisdom gave us much greater insight into the needs of the communities we serve. The digital platform allowed us to ask qualitative questions of our most vulnerable populations, to gain better understanding of their greatest challenges.

We would not have been able to assimilate all of this information in a constrained timeline without the expertise of CommunityWisdom. Their support provided shape to our work, and ultimately helped us improve the health of our communities."
Dr. Sarah de Ramirez
VP and Chief Medical Officer, Clinical Innovation
OSF Healthcare
The Big Picture.
Only 10% of health is attributable to healthcare and 30% to genetics – the other 60% is linked to behavior (40%), social determinants (15%), and environment (5%). Improving community health requires a robust understanding of community member perspectives on healthcare as well as healthy lifestyles, social determinants, environment, community priorities, and health-related resources or support services.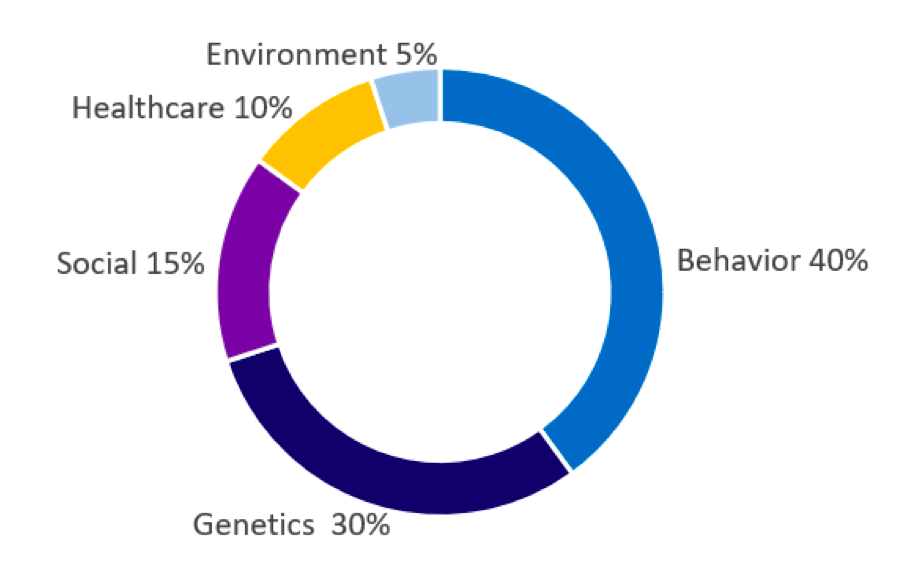 CommunityWisdom helps organizations develop or partner with programs people will use.
Community members take 10 minutes to share what matters to them, using their own smart device.

Leaders see curated reports to guide smart investment in programs that meet real-world needs.

Stakeholders build a solid foundation for sustainable partnerships.
---
The Power of CommunityWisdom
Use Case #1: Listening to community members guides planning, programming, and investment
A health system purchased a hospital that was closing. Rather than assuming 'if we build it, they will come', the system highlighted the voice of community members by using CommunityWisdom to learn how they view their own health, health behaviors, and barriers as well as their ideas for improving health in the community and perceptions of community resources. Results led the health system to redirect a significant strategic investment into an existing community resource, creating a partnership that people want to use rather than trying to build a separate resource of their own.
Use Case #2: Measuring perception and reality to align activities and drive innovation
A health system asked CommunityWisdom to determine how employees, community agency advocates, and community members prioritize health issues in three different communities. We worked closely with the health system to refine the approach. Results illustrated that employees and community agency advocates had similar views of community needs and priorities. However, in several important aspects (e.g., access to transportation, access to healthy food), these views differed considerably from the lived experience of community members. Results generated a new approach to vulnerable populations in these communities.
Use Case #3: Implementing a more useful Community Health Needs Assessment
In order to maintain their non-profit status, hospitals and health systems must perform a Community Health Needs Assessment (CHNA) every three years, with the goal of identifying and addressing opportunities to improve health in the community. Traditional CHNAs tend to capture quantitative information (i.e., counts) and provide a broad view of the community, which has limited utility. As part of their CHNA effort, a health system used CommunityWisdom to collect qualitative insights from community members, yielding a deeper view of health issues and health behaviors that can be coupled with quantitative results to drive change.
---
Interested in learning more?
Fill in the Demo Request form below, and a member of our team will be in touch to start a conversation.
About PatientWisdom, Inc.
Our Wisdomics™ platform transforms the experience and delivery of care by listening to the people involved – patients, providers, students, and community members – individually and at scale. We capture real-world perspectives via our mobile-responsive digital solutions and distill the information into meaningful, actionable insights to help health organizations become more responsive and successful. This practical and powerful combination of digital + personal is the key to leading in the age of consumerism and value-based care. Our health system partners recognize this, and three of them are also investors.

For health organizations that have prioritized truly patient-centered care

For health organizations that are focused on engagement, loyalty, and retention

For universities and professional schools focused on learner well-being and the learner environment

For organizations committed to improving the health of the communities they serve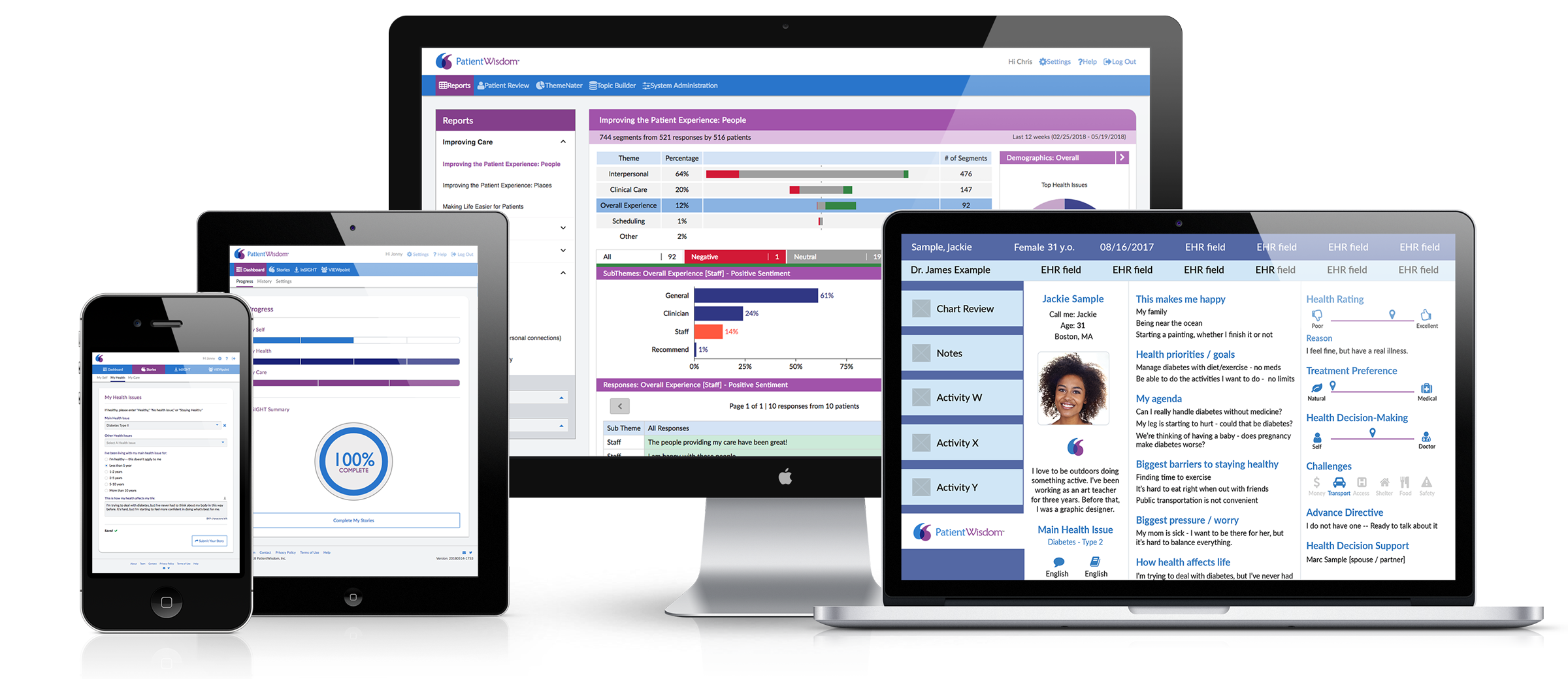 ---